HSP70: Protein Type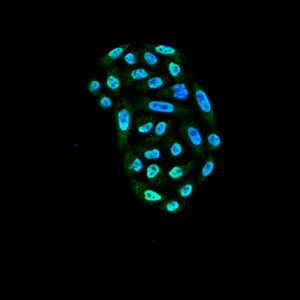 Immunofluorescent detection of Hsp70 using
Mouse Anti-HSP70 Monoclonal Antibody, Clone 2A4
in HeLa cells.
HSP70s are monomeric proteins that reside in the cytosol of prokaryotes and the cytosol, nuclei, ER, mitochondria and chloroplasts of eukaryotes
8
. In addition to their intracellular location, HSP70s have been found in the plasma membrane of malignantly transformed cells, on virally / bacterially infected cells and in the extracellular space. Extracellular Hsp70 exists in a free soluble form, complexed to antigenic peptides, or in exosomes
12,13,14,15
. Noteworthy, Hsp70-1 as the most prominent member of the HSP70 family can be detected in the plasma membrane of a large proportion of different tumor entities, but not in the plasma membrane of normal cells/tissues
16,17,18
. Several observations have led to the hypothesis that in tumor cells Hsp70-1 is an integral membrane protein associated with certain membrane lipid components
15, 16
.